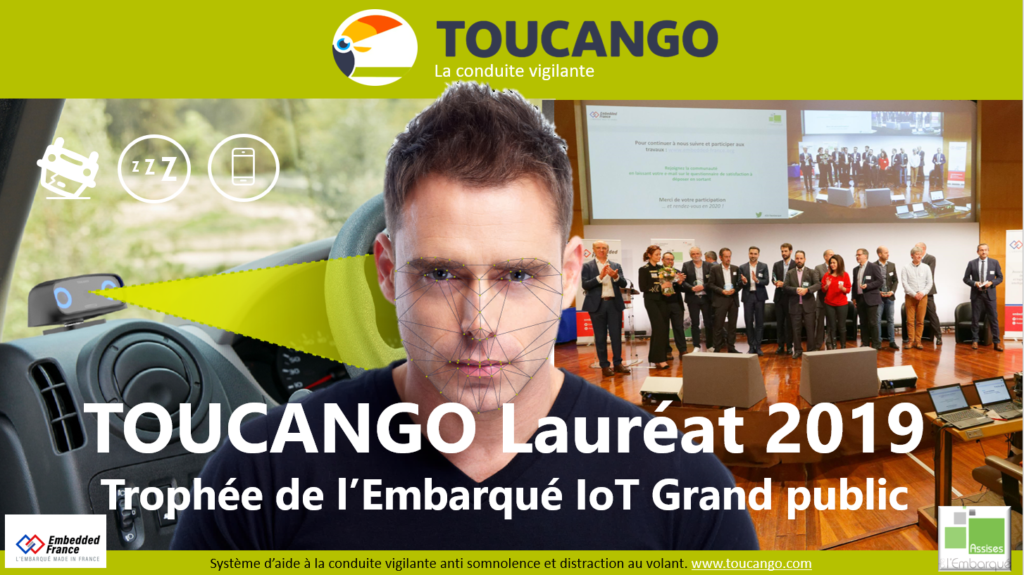 TOUCANGO wins the Embedded IoT Trophy for the general public.
The Embedded France jury voted for TOUCANGO!
The TOUCANGO team is proud of this trophy received at the end of 2019 in Paris in the premises of the Ministry of Finance and the Interior during the event "Les Assises de l'embarqué".  It is on file that the jury of L'embarqué decided in favor of the project MiniTOUCANGO for its section IOT General Public 2019.
Award ceremony and encouragement from the CEA with Mr François TERRIER, AI expert
"The CEA, represented by the List Institute, is pleased to award the "Embedded IoT General Public" Trophy to Toucango, an intelligent system to assist vigilance for professional drivers designed by the Innov+ company in Paris-Saclay. The Toucango module, equipped with a near-infrared optical sensor and using a high-speed facial analysis algorithm, can be integrated into all existing vehicles. It is particularly gratifying to reward a company that actively participates in the prevention of road risks, which we all face, and that proposes innovations in the field of on-board AI, a major challenge both societal and scientific. "